24th Metropolis Canada Conference
Reopening Canada: Looking to the Future of Immigration, Settlement and Integration
IMPORTANT NOTICE REGARDING HEALTH AND SAFETY AT THE CONFERENCE - CLICK HERE
SUMMARY
24th Metropolis Canada Conference
Reopening Canada: Looking to the Future of Immigration, Settlement and Integration
March 24-26, 2022 | The Hyatt Regency, Vancouver, BC
TO BE HELD IN PERSON
By popular demand and in full compliance with existing health measures, delegates to the Metropolis Canada Conference will be gathering in person in Vancouver for broad ranging discussions about the ongoing and new challenges in immigration, settlement and integration.
For the first time in two years, immigrant service providers, policy makers and researchers and other key stakeholders from across Canada will have the opportunity to hold in-depth exchanges about policy needs, best practices, lessons learned, the latest data and studies, and about how best to advance immigration and refugee settlement at this critical juncture in our history.
Please note that proof of full vaccination for all attendees and compliance with all government regulations in place will be required and enforced at the event.
Some of the important issues to be addressed at the conference include:
Ongoing and new challenges arising from the pandemic
Restoring immigration levels
Afghan refugee entry and resettlement
Refugee sponsorship in Canada
Complementary pathways for refugees
Indigenous peoples and newcomers to Canada
Temporary foreign workers
Foreign Credentials Referral (FCR)
Migration and Mental Health
Two-step migration
Immigrant integration in the 'hybrid' workplace
Climate refugees / Internal displacement in a changing climate
Immigration and the housing crisis
Migration and transnationalism
Fighting Racism
Revisiting goals in diversity and inclusion
Reopening Borders
Gaps in research on migration, settlement and integration
Immigration and economic uncertainty in Canada
Program
Click on the image to download the full program
THURSDAY March 24, 2022
Plenary sessions
• Plenary 1 | March 24, from 9:15 am to 10:30 am
THE IMPACT OF THE PANDEMIC ON THE LABOUR MARKET AND SOCIAL OUTCOMES OF NEWCOMERS TO CANADA
The ongoing crisis resulting from the global pandemic has presented a set of unprecedented challenges for the service providers and policy makers in Canada's immigration sector. There is considerable evidence pointing to the disproportionate impact of the pandemic on the labour market and social outcomes of newcomers to Canada. In 2020, the number of immigrants admitted to Canada was reduced by nearly half relative to the previous year. By 2021, however, the annual immigration arrivals attained a single year record with just under 400 000 admissions. How did newcomers, immigrant service providers and policy makers respectively deal with the volatility of the past two years? What are the main challenges in newcomer adjustment over the course of the pandemic? Plenary speakers will offer insights into migration management with a focus on health, jobs, education, language training and other measures.
• Plenary 2 | March 25, from 9:00 am to 10:30 am
THE ENTRY AND SETTLEMENT OF AFGHAN REFUGEES IN CANADA
In August 2021 the government of Canada announced that a special immigration program would be implemented to expedite the arrival of Afghan nationals and their families, who assisted the Government of Canada. A particular focus was directed towards the most vulnerable groups. The program welcomed government-supported and privately sponsored refugees, along with those sponsored by families previously established in Canada. The government agreed to admit up to 40 000 Afghans and to expedite their entry and settlement. The process entailed significant mobilization of immigrant service providers, private sponsors and various international and domestic partners with expertise on resettlement, trauma, and integration. From the outset the entry and settlement of Afghan refugees encountered significant challenges especially in regards to organizing large numbers of arrivals during a pandemic, immigration and visa processing, the availability of housing and the problems of resettling in Canada in a short period of time.
This plenary will feature policy makers, immigrant service providers and civil society representatives that are working closely with Afghan refugees to discuss what has worked best and what hasn't in their entry and settlement as well as to make recommendations as to what needs to be done going forward. Given the current international political situation, the fast pace at which displacement and resettlement may become more common in the future so the goal of this panel is to learn from this experience so that we are ready for the next crisis.
• Plenary 3 | March 26, from 9:00 am to 10:30 am
FROM METROPOLIS NORTH AMERICA TO METROPOLIS AMERICAS: AN "AMERICAS" CONVERSATION ABOUT MIGRATION
The November 2021, the North American Leaders' Summit (known popularly as the meeting of the three Amigos) aimed at discussing the regional migration crisis that has had a profound impact on the United States, Mexico and Canada. The global pandemic has seen greater attention directed at the crisis with the closing of land borders and the rising backlog of migrants. It has become apparent that the three country conversation around migration must incorporate the broader migration situation and conditions in the Americas to effectively address the ongoing challenges arising from the political and economic instability. Plenary speakers will speak about the key pillars for an Americas conversation about migration. This session will also formalize the transition from Metropolis North America to Metropolis Americas.
Speakers Powerpoint presentations and Plenary sessions video Recordings
Access the speakers' PowerPoint presentations by clicking on this link.
DAY 1 - March 24, 2022
Welcome and Opening Messages and Addresses
Plenary Session 1: The Impact of the Pandemic on the Labour Market and Social Outcomes of Newcomers to Canada
DAY 2 - March 25, 2022
Plenary Session 2: The Entry and Settlement of Afghan Refugees in Canada
DAY 3 - March 26, 2022
Metropolis Canada 2022 Award Winners
Plenary Session 3: From Metropolis North America to Metropolis Americas: An "Americas" Conversation about Migration
RATES & REGISTRATION
Registration is closed

. We have reached capacity for this venue.
Please note:
• The March 23 pre-conference forum is a virtual event and registration is open. Click here for more information.
• In the Fall (October 19-21, 2022), we will be holding in the Delta Hotel by Marriott Winnipeg (Manitoba) the 5th Edition of the Metropolis Identities Summit (previously the Metropolis Measuring Identities Forum) this year's theme being Diversity, Equity and Inclusion: Practices, Policies and Programs. The call for submissions and other details to follow. To receive information concerning this event, enter your email here.
---
Note that the conference will run from approximately from 9:00 AM – 5:00 PM on March 24 and 25, and will run from 9:00 AM to 12:00 PM on March 26, 2022.
Proof of full vaccination for all attendees and compliance with all government regulations in place will be required and enforced at the event for all conference delegates and staff.
PRE-FORUM
Join Metropolis Americas' inaugural event to be held virtually on March 23, 2022.
Metropolis Americas' Inaugural Conference in Collaboration with the World Refugee & Migration Council
BRIDGING THE AMERICAS ON MIGRATION, INTEGRATION, INCLUSION
Click on the image to view more information and to register!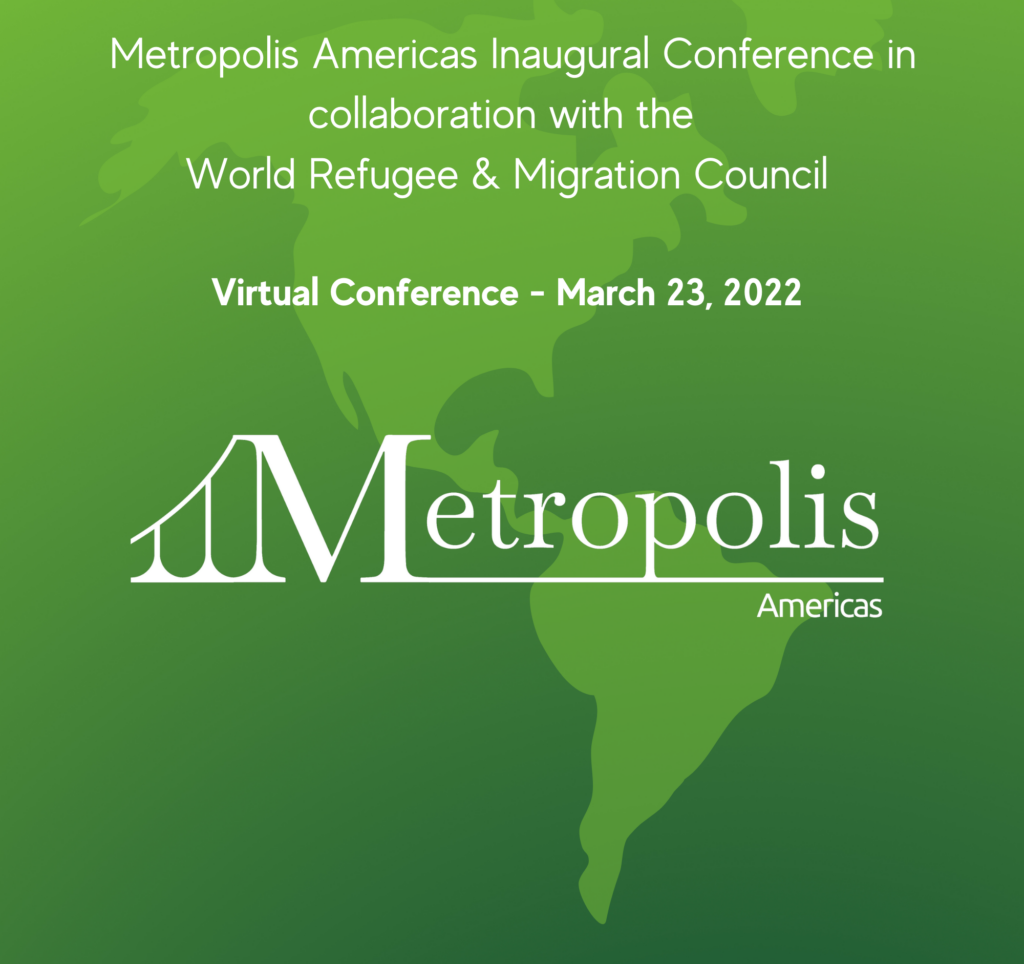 Book a hotel room
• HYATT REGENCY VANCOUVER -
SOLD OUT
655 Burrard Street, Vancouver, BC, Canada V6C 2R7
Tel: +1 604 683 1234 | vancouver.hyatt.com
Hotel guestrooms are available at the conference rate from $205 per night. The conference booking code is G-NMCI.
If reserving by phone, the number is +1-800-233-1234 and the conference booking code is G-NMCI.
The deadline to obtain the special conference rate is Tuesday, March 1, 2022. Limited rooms are available and may not be available following March 1st.
• Fairmont Hotel Vancouver
900 W Georgia St, Vancouver, BC, Canada V6C 2W6
Tel: + 1-866-540-4452 | fairmont.com/hotel-vancouver
Hotel guestrooms are available at the conference rate from $205 per night. The conference booking code is NATI0322.
> To book a room: click here
If reserving by phone, the number is +1-866-540-4452 or +1-800-441-1414 and the conference booking code is NATI0322.