Metropolis North America Migration Policy Forum
COVID-19's Impact on Migration and Borders in Canada, the USA and Mexico
SUMMARY
COVID-19's Impact on Migration and Borders in Canada, the USA and Mexico
To view the French version, please click here.
The annual Metropolis North America (MNA) Migration Policy Forum has become an important three-country platform for exchanging evidence-based ideas and practices on migration and identities. The Forum enables participants to share knowledge and key lessons on policy issues in the United States, Mexico and Canada.
From June 28-29, 2021 we will hold a virtual forum aimed at showcasing the research on the Canadian Institutes of Health Research (CIHR) funded project on differential impacts of COVID-19 on immigrants, Indigenous peoples and vulnerable communities in the three countries.
On day 1, June 28th, the Forum will feature sessions that will offer two country or three country comparisons of findings from the surveys associated with the CIHR research project. Questions to be addressed include:
To what extent have socioeconomic inequalities faced by newcomers, Indigenous peoples and vulnerable communities influenced their experience of COVID-19 and its related social and economic restrictions?
Are there differences between groups in Mexico, USA and Canada on these health measures? Are there similarities? What can we learn from these?
How have COVID-19 related government-imposed regulations differentially influenced the mental, physical health and well-being of Immigrants, Indigenous peoples and vulnerable communities?
Personal and community fear of getting COVID-19 by country and socio-demographics / Where information is obtained about COVID-19 and how it shapes attitudes / Vaccine acceptance and hesitancy / Mental health and depression / Physical health and symptoms / Trust of people and institutions / Compliance with public safety measures
Access to services / Personal finances and economic impacts of COVID-19
Services to newcomers / Identity, attachment and responses to the crisis / Discrimination and prejudice / Relations between communities
Day 2 of the Forum, June 29th, will focus specifically on cross border movement between the three countries. At present land borders between Canada and the United States remain closed and there is no official time table or proposal aimed at reopening the land border. Exceptions are made for cross border movement under certain conditions.
Day 2 will convene policy makers at all three levels of government in Canada and the United States, Indigenous representatives as well as researchers in the two countries to consider proposals for reopening the border and what might the conditions be for doing so. The day will feature two plenary sessions and three round tables that will include US-Canada border Mayors, Indigenous leaders, researchers, business leaders and public health officials.
Note that a publication will be produced based on the content that will be presented by speakers at the Forum.
For additional information, e-mail metropolis@acs-aec.ca.
ReGISTRATION
Registration Type
Regular - Full Event

$

50 CAD
Click on a price to register
Resumen
EL IMPACTO DE COVID-19 EN LA MIGRACIÓN Y LAS FRONTERAS EN CANADÁ, ESTADOS UNIDOS Y MÉXICO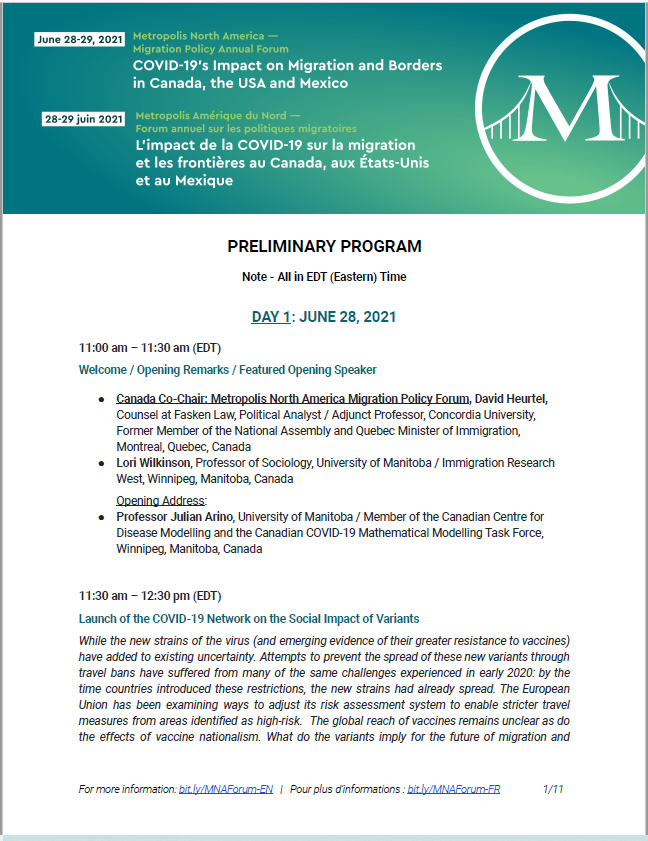 El Foro anual de Políticas Migratorias de Metrópolis Norteamérica (MNA) se ha convertido en una importante plataforma de tres países para el intercambio de ideas y prácticas basadas en pruebas sobre migración e identidades. El Foro permite a los participantes compartir conocimientos y lecciones clave sobre cuestiones políticas en Estados Unidos, México y Canadá.
Los días 28 y 29 de junio de 2021 celebraremos un foro virtual destinado a mostrar la investigación del proyecto financiado por el Canadian Institutes of Health Research (CIHR) sobre los impactos diferenciales del COVID-19 en los inmigrantes, los pueblos indígenas y las comunidades vulnerables de los tres países.
El primer día, el 28 de junio, el Foro contará con sesiones que ofrecerán comparaciones entre dos o tres países de los resultados de las encuestas asociadas al proyecto de investigación del CIHR. Entre las cuestiones que se abordarán figuran:
¿En qué medida las desigualdades socioeconómicas a las que se enfrentan los recién llegados, los pueblos indígenas y las comunidades vulnerables han influido en su experiencia del COVID-19 y en las restricciones sociales y económicas que conlleva?
¿Existen diferencias entre los grupos de México, Estados Unidos y Canadá en estas medidas de salud? ¿Hay similitudes? ¿Qué podemos aprender de ellas?
¿Cómo han influido las regulaciones impuestas por el gobierno relacionadas con la COVID-19 de manera diferencial en la salud mental, física y el bienestar de los inmigrantes, los pueblos indígenas y las comunidades vulnerables?
Temor personal y de la comunidad a contraer COVID-19 por país y características socio demográficas / Dónde se obtiene la información sobre COVID-19 y cómo influye en las actitudes / Aceptación de la vacuna y dudas al respecto / Salud mental y depresión / Salud física y síntomas / Confianza de las personas e instituciones / Cumplimiento de las medidas de seguridad pública
Acceso a los servicios / Finanzas personales e impactos económicos de COVID-19
Servicios a los recién llegados / Identidad, apego y respuestas a la crisis / Discriminación y prejuicios / Relaciones entre comunidades
El segundo día del Foro, el 29 de junio, se centrará específicamente en la circulación transfronteriza entre los tres países. En la actualidad, las fronteras terrestres entre Canadá y Estados Unidos permanecen cerradas y no existe un calendario oficial ni una propuesta encaminada a reabrir la frontera terrestre. Se hacen excepciones para el movimiento transfronterizo bajo ciertas condiciones.
El segundo día reunirá a responsables políticos de los tres niveles de gobierno de Canadá y Estados Unidos, a representantes indígenas e investigadores de los dos países para estudiar propuestas de reapertura de la frontera y cuáles podrían ser las condiciones para hacerlo. La jornada contará con dos sesiones plenarias y tres mesas redondas en las que participarán alcaldes de la frontera entre Estados Unidos y Canadá, líderes indígenas, investigadores, empresarios y funcionarios de salud pública.
Tenga en cuenta que se elaborará una publicación basada en el contenido que presentarán los ponentes del Foro.
Para más información, envíe un correo electrónico a metropolis@acs-aec.ca.