22nd Metropolis Canada Conference
Beyond 2020: Renewing Canada's Commitment to Immigration
22nd Metropolis Canada Conference
Beyond 2020: Renewing Canada's Commitment to Immigration
March 19-21, 2020
RBC Convention Centre
Winnipeg, Manitoba
---
Draft Breakout and Poster SessionS Schedule
Conference Features
Opening and keynote speakers
4 featured plenary sessions
Over 150 workshop, panel and roundtable breakout sessions organized by delegates from across Canada
Over 25 poster board presentations
20+ exhibitors
The Canadian Race Relations Foundation Canada Lecture
A reception and visit to the Canadian Museum of Human Rights (registration required as space is limited)
A Welcoming Reception hosted by Mayor Brian Bowman (registration required as space is limited)
A special publication commissioned for the conference given to all delegates
Pre-conference forums
A number of other sessions, events and activities offered to the expected 900+ delegates
Conference chairs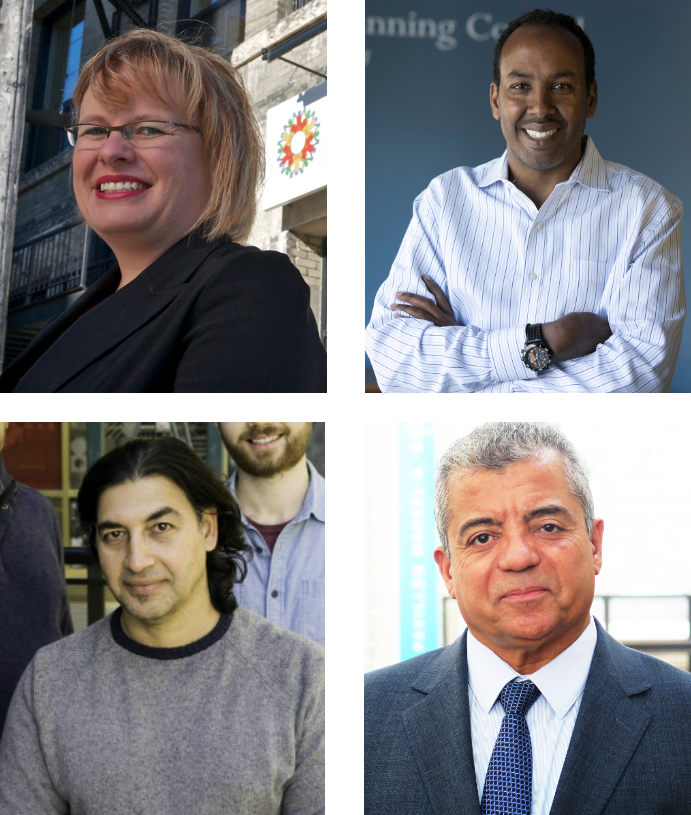 Professor Lori Wilkinson, University of Manitoba / Canada Research West
Abdikheir Ahmed, Immigration Partnership Winnipeg (IPW)
Hani Ataan Al-Ubeady, Immigration Partnership Winnipeg (IPW)
Dr Faiçal Zellama, School of Business Administration, Université de Saint-Boniface
Opening Remarks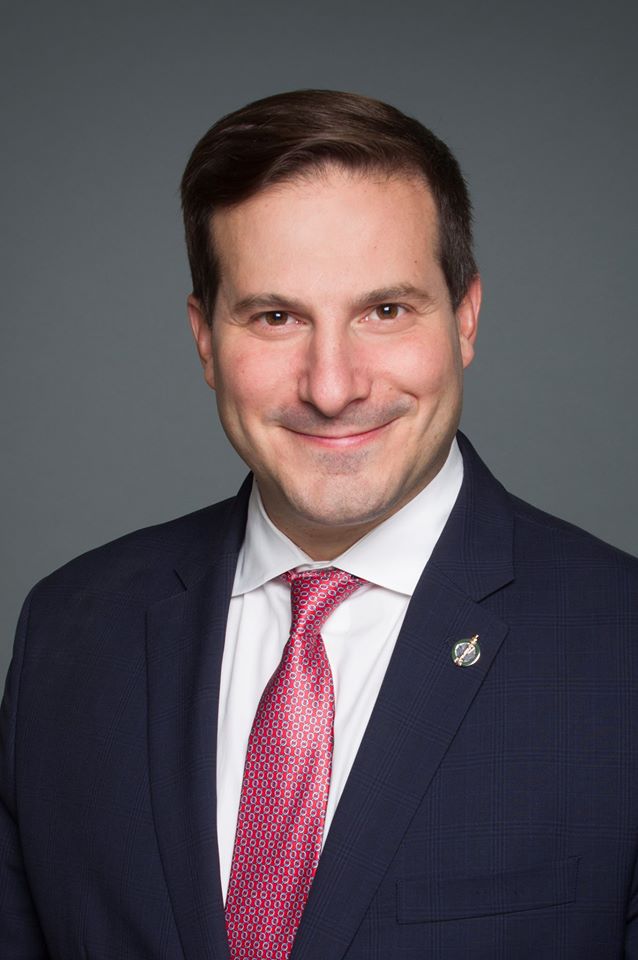 The Honourable Marco E. L. Mendicino, P.C., M.P., Minister of Immigration, Refugees and Citizenship (Invited)
The Honourable Marco E. L. Mendicino was first elected as the Member of Parliament for Eglinton—Lawrence in 2015.
Minister Mendicino is a proud resident of Toronto and a passionate advocate for his community. During his first term, he championed local investments in public transit and in affordable housing and supported youth-driven programs aimed at creating more employment opportunities and safe spaces. — Read more.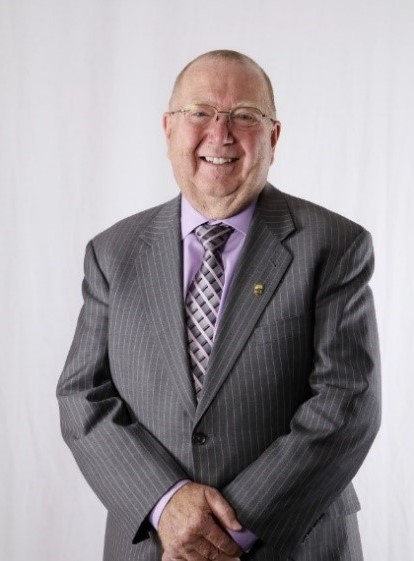 Honourable Ralph Eichler, Minister of Economic Development & Training, Government of Manitoba
Ralph Eichler was appointed Minister of Economic Development and Training for the Province of Manitoba in October 2019. He was first elected to Manitoba's Legislative Assembly in 2003 as the representative of Lakeside.
Prior to entering politics, Ralph was a purebred cattle producer, the former owner/operator of Prairie Farm and Ranch Supply and owner of Ray's Auction Service. Aside from agriculture, he has had lengthy careers in manufacturing, business, finance and education. — Read more.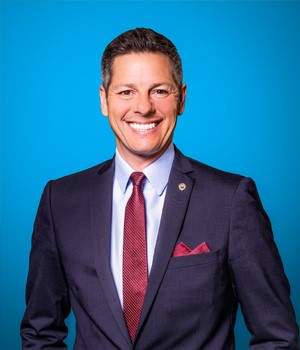 Mayor Brian Bowman, Mayor of the City of Winnipeg
Mayor Brian Bowman, the City's first Aboriginal Mayor, was elected as the 43rd Mayor of the City of Winnipeg in a landslide victory on October 22nd, 2014.
Brian is passionate about ensuring Winnipeg is a City that works better for every citizen. He is committed to building a stronger Winnipeg, a city that is open, transparent, that has improved infrastructure, safer communities, and a real long-term economic plan for the future. — Read more.
Plenary Sessions
• Plenary 1: Thursday, March 19, 9:00 AM
BUILDING BRIDGES BETWEEN INDIGENOUS AND NEWCOMER COMMUNITIES
The objective of this plenary is to showcase innovative and award-winning programs and strategies that bring newcomers and Indigenous peoples together as part of our nation's strategy for reconciliation. Often, newcomers arrive to Canada with little or no knowledge of Indigenous peoples. The work done by the panelists in this session has helped advance reconciliation and educational foundations in this area.
Shereen Denetto (Session Chair), Associate Executive Director, Immigrant and Refugee Community Organization of Manitoba (IRCOM)
Loretta Ross, Treaty Relations Commissioner of Manitoba
Clayton Sandy, Knowledge Keeper & Cultural Advisor, Member of Circles of Reconciliation team, Winnipeg, Manitoba
Kory Wilson, Executive Director, Indigenous Initiatives and Partnerships, British Columbia Institute of Technology, Author "First Peoples: A Guide for Newcomers", Burnaby, BC
Mandela M. Kuet, Acting Executive Director, ACOMI (African Communities of Manitoba, Inc.) Winnipeg, Manitoba
• Plenary 2: Thursday, March 19, 11:00 AM
LIVING THE BORDER: CROSSINGS, CRISES AND COMMITMENTS TO REFUGEE PROTECTION
Canada's land border with the United States is almost 9,000 kilometres long — the longest international border in the world. How Canada conceives of its border and controls those who cross it speaks to Canada's humanitarian commitment to refugees. This plenary will look at border policies and practices in North America and the effect on those needing or trying to cross for protection. Panelists will speak to their experiences of the border from the perspectives of policy-making, asylum-seeking, academic scholarship and advocacy. With the continuance and court challenge of the Safe-Third Country Agreement, how can we better understand and approach our borders?
Nadia Kidwai (Session Moderator), Host of the Weekend Morning Show on CBC Radio One 89.3 FM / 990 AM, Winnipeg, Manitoba
David Heurtel, Counsel, Fasken Law, Minister of Immigration, Diversity and Inclusiveness with the government of Quebec from 2017 to 2018, Public administration scholar-in-residence, Concordia University, Montreal, Quebec
Seidu Mohammend successfully obtained refugee status in Canada after avoiding the official port of entry and entering from the United States through farmers' fields in the midst of a winter storm, Winnipeg, Manitoba
David FitzGerald, Professor, Gildred Chair in U.S.-Mexican Relations and Co-Director, Center for Comparative Immigration Studies, University of California, San Diego, USA
Dr Rodolfo Cruz Piñeiro, Director, Department of Population Studies, El Colegio de la Frontera Norte, Tijuana, Mexico
• Plenary 3: Friday, March 20, 9:00 AM
MUNICIPAL ENGAGEMENT IN THE ATTRACTION, SETTLEMENT, AND INTEGRATION OF NEWCOMERS
While immigration has traditionally been a shared responsibility between federal and provincial governments, there is increasing recognition of the value of municipal engagement in immigration and settlement efforts. From large urban centres to smaller rural communities, municipal leaders have an important role to bring together community stakeholders and create more welcoming communities for newcomers.
Corinne Prince (Session Chair), Director General, Immigration, Refugees and Citizenship Canada
Ben Rempel, Assistant Deputy Minister, Immigration and Economic Opportunities, Government of Manitoba
Baldwin Wong, Senior Social Planner, Vancouver, BC
Annette Korntheuer, Professor, Catholic University of Eichstätt, Department of Social Work, Former Educational Consultant and Coordinator for Newcomers, City of Munich, Germany
Steve Reynolds, Executive Director, Regional Connections, Altona, Manitoba
• Plenary 4: Saturday, March 21, 9:00 AM
CONFRONTING ANTI-IMMIGRANT SENTIMENT: XENOPHOBIA, RACISM AND THE RISE OF POPULISM
Across Europe and North America, populist movements have frequently targeted migrants. Certain politicians and journalists have stoked fears and anxieties about migration blaming immigrants for the country's social and economic problems. Anti-immigrant sentiment, xenophobia and racism are increasingly pervasive in social media. What has contributed to the rise of populism? How can Canadian policy-makers, academics and civil society best respond to this troubling phenomenon? What actions are most effective in combating xenophobia and racism in Canada and elsewhere? How can we forcefully engage in the Canadian public conversation around migration?
Minelle Mahtani (Session Chair), Professor, The Institute for Social Justice, University of British Columbia, Former national television news journalist at the CBC, Vancouver, BC
Shahina Siddiqui, Founder and Volunteer Executive Director of the Islamic Social Services Association (ISSA), Freelance writer, Author and spiritual counselor, Speaker and educator, Winnipeg, Manitoba
Charles Taylor, CC GOQ FRSC FBA, Professor Emeritus, McGill University, Canadian political philosopher, Author of "A Secular Age" and co-author of a forthcoming book on the degenerations of democracy, Co-Chair, Consultation Commission on Accommodation Practices Related to Cultural Differences (for the Government of Quebec), Montreal, Quebec
Kamal Al-Solaylee, Professor, Ryerson University, Author of the national bestselling memoir "Intolerable: A Memoir of Extremes" and journalist, Toronto, Ontario
Bochra Manaï, Dr., Director, Parole d'excluEs, researcher focusing on ethnicity, immigration and cohabitation in the city space, Consultant with community organizations, including the Quebec branch of the National Council of Canadian Muslims, Montreal, Quebec
Photo credits: Dan Harper
Pre-conference Forum
Wednesday, March 18, 2020
Delta Hotels by Marriott Winnipeg, 350 St. Mary, Winnipeg, Manitoba
The Fédération des communautés francophones et acadienne du Canada (FCFA) presents a Forum on Francophone Immigration:
14e Journée de réflexion sur l'immigration francophone
To register and for more information please click here: https://immigrationfrancophone.ca/

Special Events
• Metropolis Welcoming Reception: The Canada Lecture & Visit to The Canadian Museum for Human Rights - SOLD OUT
THURSDAY, MARCH 19, 2020, 5:00 PM – 7:00 PM
Location: Canadian Museum of Human Rights, 85 Asper Way, Winnipeg, Manitoba R3C 0L5
Please join us for the 2020 Metropolis Welcoming Reception, hosted at The Canadian Museum for Human Rights. This year's reception will include a walk-through tour of a number of galeries at the museum and will be followed by a reception and the Canadian Race Relations Foundation's (CRRF) annual Canada Lecture, featuring an address by Jean Teillet, Senior Counsel with Pape Salter Teillet LLP and specialist in Indigenous rights law.
To view the program, click here.
If you wish to visit the Canadian Museum for Human Rights on your own, a discount is available for Metropolis Conference delegates. Enter the promo code ACS2020 if you purchase a ticket on line or show your conference name tag if you purchase a ticket in person at the museum.
• Mayor Brian Bowman and the City of Winnipeg Welcome Metropolis delegates - Sold out
FRIDAY, MARCH 20, 2020, 5:00 PM – 7:00 PM
Location: The Ballroom at the Inn at the Forks
75 Forks Market Road, Winnipeg, Manitoba R3C 0A2
Please note: Special events are free of charge, but space is limited. You must sign up for the event when you register for the conference (one ticket per conference delegate).
Registration
Click on a price to register
The earlybird rates ended on January 10, 2020.
---
Cancellation Policy
Refunds less a $25.00 cancellation fee will be given for cancellations received in writing to metropolis@acs-aec.ca prior to February 17, 2020. Following this date, no refunds will be given.
The 2020 Metropolis CANADA Awards
The 22nd Metropolis Canada Conference Steering Committee is pleased to announce the opening of our call for nominations for the Metropolis Canada Awards. These awards recognize and celebrate outstanding contributions to the field of immigration and settlement in Canada.
The Metropolis Canada awards intend to establish a benchmark of achievement and excellence, bringing pride and peer acknowledgement to the deserving recipients. There are three award categories to nominate candidates under:
Metropolis Canada Service Provider Award (Non-profit)
Metropolis Canada Researcher Award (Academic/Graduate Student)
Metropolis Canada Policymaker Award (Former/Current Civil Servant)
The Metropolis Canada Awards Subcommittee, consisting of members of the Conference Steering Committee, is responsible for selecting the Award recipients. A nomination for each of the three categories of the Metropolis Canada Awards may be submitted by any persons working in the field of immigration and settlement in Canada and should include:
A one-page statement explaining reasons for the nomination;
A copy of the nominee's full curriculum vitae;
And two letters of recommendation.
Awards will be presented at the 22nd Metropolis Canada Conference on March 19-21, 2020 at Winnipeg's RBC Convention Center. Please submit your nomination to Ashley Manuel at ashley.manuel@acs-aec.ca.
Submissions must be received no later than February 7, 2020. Earlier submissions are appreciated.
Exhibitors and Partners
Please note the deadline to reserve a space as an exhibitor is February 7, 2020.
Partners, sponsors, advertisers and exhibitors will benefit from direct access to delegates from all three levels of government, NGO/service provider and community organizations, academia and the private sector. Over 700 researchers, policy-makers and community practitioners from across Canada are expected to attend the conference. You can showcase your educational materials, research, products and services and network directly with this highly targeted audience.
22nd Metropolis Canada Conference partners:
---
See the Conference Partnership, Sponsorship, Exhibitor and Advertising Opportunities: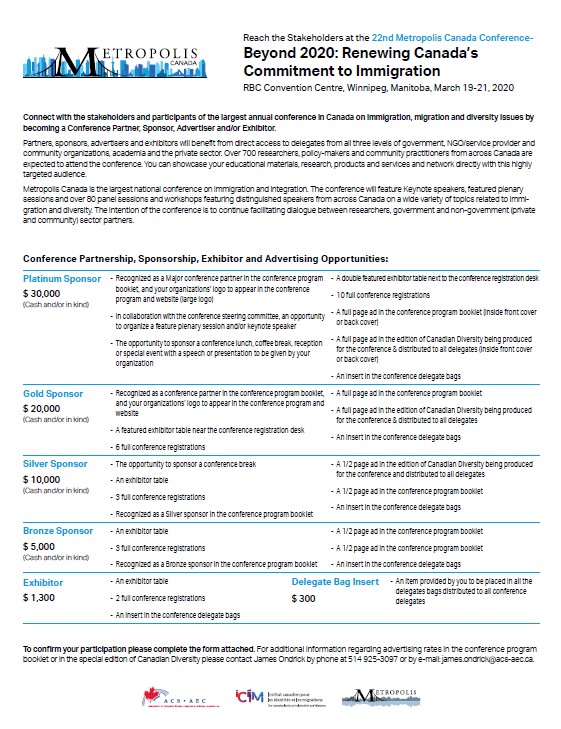 Download
Exhibitor Registration Form: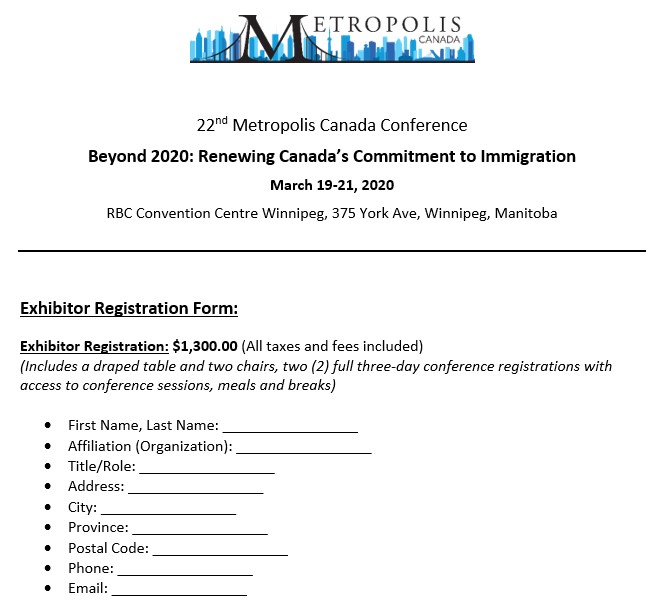 Download
TOURIST INFORMATION
Click on the link below for information regarding what to do in Winnipeg during your stay.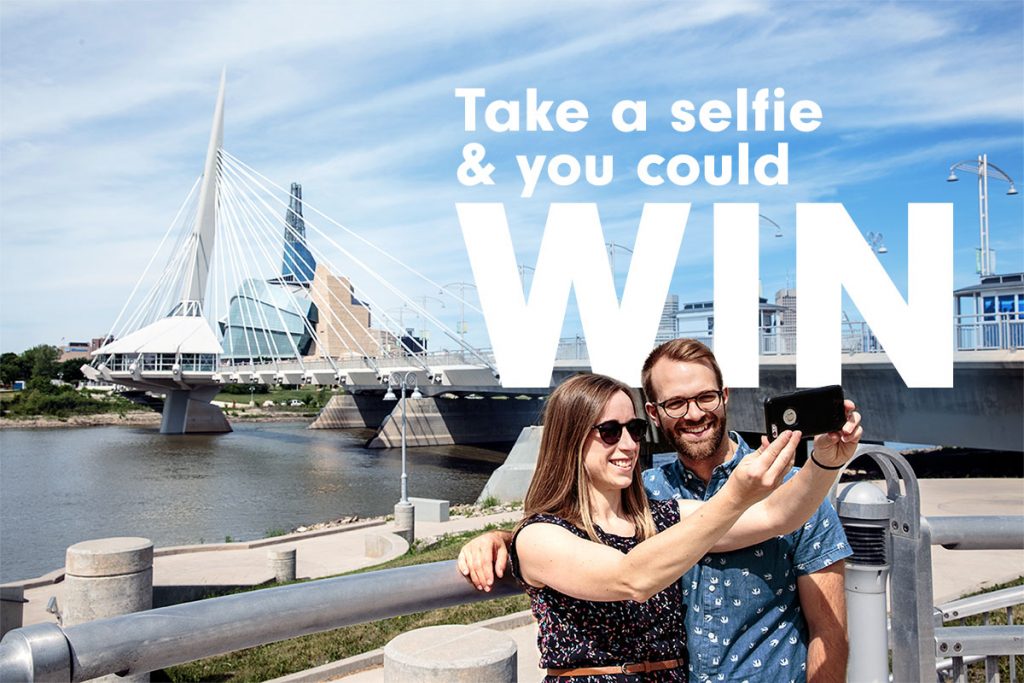 Contest: Share your Winnipeg experience on social media and Win $500!
Take a photo of yourself experiencing the city away from the RBC Convention Centre and tag the photo with #meetingwinnipeg on Twitter or Instagram and you'll automatically be entered to win a $500 VISA gift card!
Visit the Tourism Winnipeg website for more information.
The winner will be announced Saturday morning before the plenary session begins, 8:45 am in the York Ballroom.
---
BOOK A HOTEL ROOM
• Delta Hotels by Marriott Winnipeg
350 St. Mary Avenue, Winnipeg, Manitoba R3C 3J2
Hotel guestrooms are available at the conference rate from $141 per night. Book your group rate for Assoc. for Cdn Studies-Attendees to obtain the special rate for Metropolis Conference delegates.
> To book: click here.
If reserving by phone, the number is 1-844-294-7309 and the conference booking code is ACA.
The deadline to obtain the special conference rate is Tuesday February 18, 2020. Limited rooms are available.
• Alt Hotel Winnipeg
310 Donald Street, Winnipeg, Manitoba R3B 2H3
Hotel guestrooms are available at the conference rate of $139 per night. Special group rate for Metropolis Conference delegates.
> To book: click here (group Block Code 2003ACS)
If reserving by phone, the number is 1-844-946-6258 and the conference Group Name/Block ID: Metropolis Canada - 7365584.
The deadline to obtain the special conference rate is Tuesday February 18, 2020. Limited rooms are available.
• Radisson Hotel Winnipeg Downtown
288 Portage Avenue, Winnipeg, Manitoba R3C 0B8
Hotel guestrooms are available at the conference rate of $154 per night. Special group rate for Metropolis Conference delegates.
> To book: click here (group Block Code: ACS20)
If reserving by phone, the number is 1-800-333-3333, Direct: 204-956-0410 and the conference Group Name/Block ID: Metropolis Canada Conference - Block Code: ACS20.
The deadline to obtain the special conference rate is Tuesday February 18, 2020. Limited rooms are available.